About the Heart and Dagger Saloon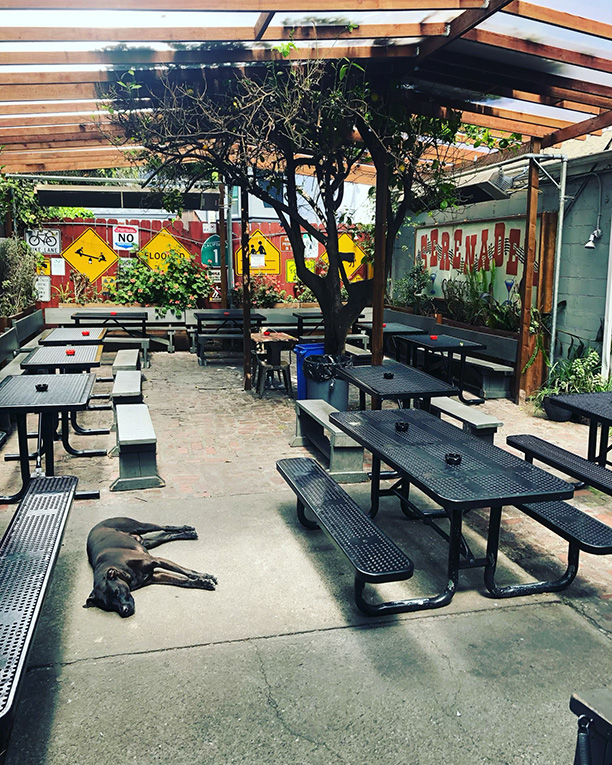 Good drinks, good vibes, and good times. That's what you'll find at The Heart and Dagger Saloon.
We offer a diverse selection of beer and liquor at low prices, served by our friendly staff of professional bartenders. Our jukebox covers the spectrum of rock 'n' roll from classics to new releases. If you like games, try our pool table, pinball machines, or classic arcade video games.
Our outdoor patio offers plenty of room for you and your friends to relax beneath the shade of our lemon tree and enjoy the laid-back Oakland atmosphere. Our outdoor heaters will keep you nice and cozy during those colder days and nights. We have WiFi throughout, as well. All are welcome at The Heart & Dagger Saloon. Even dogs. We're dog-friendly, assuming that your dog is also friendly. Dogs must be leashed and by your side at all times. Any dogs that perform bathroom duties on the property, display aggression, or cause excessive problems are not a good fit for us and will be asked to leave, so please make sure your dog is bar-friendly!
The Heart & Dagger Saloon is located in Oakland's Lake Merrit/Lakeshore neighborhood, close to public transportation and the 580 freeway. On-site parking is available for bicycles and motorcycles and there's convenient (and free) car parking directly across the street. We're open until 2 am every day of the year, including holidays.
We are a cash-only establishment, so leave your plastic at home! But, we have an ATM conveniently located on-site just in case you forget.
21 and over with valid I.D. No I.D., No Service, No Exceptions
Become a fan on Facebook for regular updates:
Heart and Dagger on Facebook
Check out our pictures on Instagram:
Heart and Dagger on Instagram
Interested in buying our merchandise? Please visit our Etsy page to make a purchase and we will ship your items directly to you!
Heart and Dagger Etsy shop
Hours of Operation:
Monday - Thursday, 3 p.m. - 2 a.m.
Friday, Noon - 2 a.m.
Saturday - Sunday, 12 p.m. - 2 a.m.